AI + Health Is The #1 Artificial Intelligence In Healthcare Event
---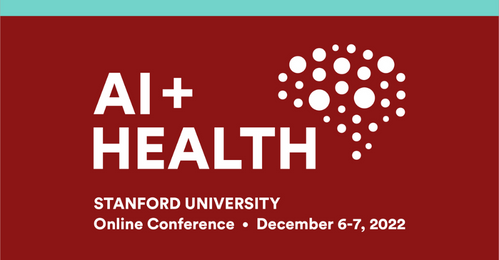 Today's CrowdUltra Virtual Event Of The Day is AI + Health. AI + Health is a two-day virtual conference focusing on AI in the healthcare industry. The summit is being held virtually on December 6th-7th. AI + Health is hosted by the Stanford Institute for Human-Centered Artificial Intelligence (HAI), Artificial Intelligence in Medicine and Imaging (AIMI), and Center for Continuing Medical Education (CME).

AI + Health is a wide-ranging online event bringing together experts and leaders from academia, industry, government, and clinical practice. The event will be exploring critical and emerging issues related to AI's impact across the spectrum of healthcare. The online conference's content will be relevant to practitioners, researchers, executives, policymakers, and professionals, with and without technical expertise. The conference will feature over 100 speakers across more than thirty-five educational sessions. The full schedule of speakers and sessions has yet to be announced and will be released in the coming weeks.

AI + Health will be covering topics including:


• Advancing the practice of medicine via AI
• Advancing the science of medicine via AI
• Closing the AI Chasm
• Cross-cutting issues in AI

AI + Health will be covering topics including:



To get your ticket for the AI + Health and learn more about their virtual conference, click here. To learn more about how CrowdUltra's free all-in-one event app can enhance any virtual event click here. Click here to learn how CrowdUltra can enhance any hybrid event.