Ariel Helwani Hosts The Best Podcast Q&A Segment During The MMA Hour
---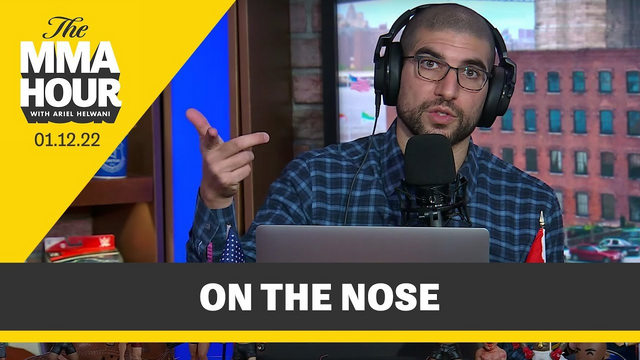 Ariel Helwani is the most prominent media member in the world of MMA. He has won MMA journalist of the year ten times and is a household name among the community. Ariel is also the host of the most popular MMA podcast in the world, The MMA Hour. Each Wednesday episode of The MMA Hour features the "On The Nose" segment where Helwani answers questions from the audience. His "On The Nose" Q&A segments alone garner 50,000 views on average. Ariel facilitates the best podcast Q&A conducted on any podcast. All podcasters should observe what he is doing to increase podcast engagement and strengthen their podcast's community.

Several days before recording the Wednesday episode of The MMA Hour, Ariel's team sets up a dedicated space to field questions from the audience to be answered during the "On The Nose" segment. This enables organized engagement that allows for questions to easily be asked, seen, and answered. The best platform for conducting organized podcast Q&A is CrowdUltra. On CrowdUltra, hosts can easily schedule Q&A sessions for every podcast episode, inform the audience that a new Q&A session has begun, and prompt them to ask or vote on questions through multiple avenues. These include through the Crowd's calendar automatically, feed announcements, and email announcements within or outside of the platform.

Ariel only allows questions for The MMA Hour's "On The Nose" segment to be asked in written format. CrowdUltra enables podcasters to tailor Q&A segments exactly how they want. They can enable questions to be asked in written format up to 255 characters, as well as in audio and/or video format before, during, or after an episode.

Every MMA Hour audience member can then vote on questions, to show the questions they're most interested in. Allowing the audience to not only ask questions but also vote on questions increases engagement and strengthens community. Those who don't happen to have a question can still participate in the Q&A and contribute to the segment. This also makes it extremely easy for Ariel to see the questions he should answer in an organized and efficient manner. CrowdUltra shows the questions organized from highest to lowest rank based on audience voting in separate lists of unanswered, answered, and dismissed questions. Every crowd member can up-vote up to five questions per event.

At the end of the Wednesday episode, Ariel then takes the time to answer the questions that were asked. He looks at the list of questions organized by the amount of votes, and then goes through the list question by question. Ariel has fostered relationships with audience members who regularly leave questions, and these audience members such as "El Cubano" have become real contributors to the show. During his "On The Nose" segment, Ariel will answer around 25 questions. He's able to do this in an hour or less while taking up to five minutes or more to thoughtfully answer the questions. CrowdUltra not only enables hosts to easily view questions to answer in an organized fashion as previously discussed, but also share answers directly on the platform for the crowd of audience members to view. Answers can be submitted on CrowdUltra in audio, video, or written format on any device. They can then be seen and individually shared by audience members as well as highlighted on the host's profile, which increases organic awareness.

Every Q&A segment on CrowdUltra can also lead participating audience members to see information and call-to-actions the host is looking to share with them. This is highly beneficial for multiple reasons. Every Event on CrowdUltra can include robust information regarding the episode by using our editor or embedding webpages. Hosts can embed audio/video of the episode, images and information about sponsors with links tied to promo codes, promotional offers and future things to be aware of, merchandise/tickets to purchase, email lists to sign up for, and much more.

Every Q&A segment also enables audience members to connect and build relationships with one another. On CrowdUltra, they can view each other's profiles and follow one another. They can send direct messages to each other. Audience members can also engage in Podcast and Podcast Episode Group Chats with the rest of the Crowd and Hosts, or create their own personalized group chats.

No matter what your podcast is about or how popular the podcast is, you should definitely incorporate Q&A or some other regular audience interaction opportunity. Your podcast is nothing without your audience and this is one of the most beneficial things a podcaster can do. You increase engagement which increases attention and dedication to your podcast, receive topics and ideas that lead to more discussion on your podcast, enable the audience to better connect with you and one another, and most importantly make the audience feel more a part of the podcast.

Ariel Helwani has provided any podcaster with the blueprint for best doing this, and CrowdUltra's award-winning app enables every podcaster to engage with their crowd in the best fashion. We have embedded his most recent Q&A segment below to study as an example. To learn more about how to facilitate podcast Q&A along with enhancing your podcast in many other ways through CrowdUltra, please click here. To sign up free to begin facilitating Q&A on CrowdUltra, please click here.