UFC Fans & Bettors Must Check Out Brian Petrie's MMA Takes Podcast
---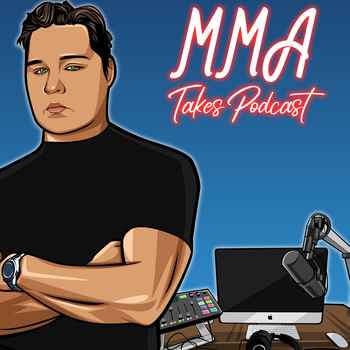 In the world of MMA, fans are commonly characterized as "casuals" and "hardcores". Hardcore MMA fans are obsessed with the sport at possibly a higher level than fans of any other sport. With this being said, hardcore MMA fans are always looking for more content to consume and often betting on the fights. For these hardcore MMA fans, The MMA Takes podcast hosted by "Big Gun" Brian Petrie is a podcast that should absolutely be added to their weekly rotation. We believe Petrie's MMA Takes Podcast is one of the five best MMA podcasts in the world.

The MMA Takes podcast features Brian Petrie talking MMA and gambling, along with giving out picks for the upcoming fights. The podcast is released twice a week, available on YouTube as well as all common audio platforms. During "PICK EM'S" episodes, Brian shares his picks for the upcoming fights with the goal of helping the audience "cash tickets". He also releases "Wednesday Takes" episodes discussing his thoughts on the world of MMA and sharing personal stories from his life.

Brian Petrie is a hardcore MMA fan turned podcaster and gambler. He has experience in training MMA as well, and even built a friendship with UFC Middleweight Chris Curtis through training at the same gym. Petrie not only has an expert understanding of MMA, but is also highly entertaining and charismatic. While his expertise shows throughout the podcast, his personality is what truly shines. A recent review on Apple Podcasts from a fan encompasses this. As they put it, "Brian P is a national treasure. This dude makes me laugh out loud with each and every piece of new content. All the MMA knowledge in the world to match his humor."

Aside from hosting MMA Takes, Brian Petrie also regularly appears as the betting expert on The Anik & Florian Podcast. Every week Big Gun joins UFC Commentator Jon Anik and UFC Legend Kenny Florian as Anik leads Florian and Petrie in giving their picks for each fight on the upcoming UFC main card. Brian really contributes to the show and most fans believe he has enhanced the show.

Those interested can check out his most recent MMA Takes PICK EM'S and Wednesday Takes episodes, along with him on the most recent episode of Anik & Florian below. We encourage every MMA fan to support Brian and subscribe to the show on your favorite platform.