Crack Amico Is The New Comedy Rapper You Must Check Out
---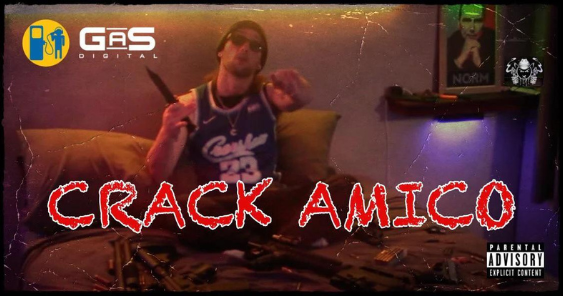 Comedy rap has been a part of the rap genre for over twenty years now. You've had Weird Al Yankovich, Afroman, The Lonely Island, and Lil Dicky. East coast podcaster and comedian Luis J. Gomez has now recently manifested the next top comedy rapper with his co-host Zac Amico, and his name is Crack Amico.

Crack Amico is truly headed down the path of becoming The Lonely Island of this era and has been making significant waves in the comedy community over the past six months. He is equally talented as he is hilarious, and refreshingly pulls no punches in his music. We expect Crack Amico to become a legitimate sensation within the world of comedy.

Crack Amico started as a joke made on the Real Ass Podcast, one of the biggest comedy podcasts in the world. Luis J. Gomez and his co-host Zac Amico were giving out a piece of merchandise to a fan who left a review on iTunes as they regularly do, and the fan's username happened to be Crack Amico. This led them down the path of joking with their guests Tim Butterly and Mike Rainey from the Dad Meat podcast about Crack Amico, a bisexual SoundCloud rapper who smokes crack. This hilarious concept sparked the idea in Luis J. Gomez's mind to create the next great SoundCloud rapper in a similar way to how The Monkees were formed; by holding a contest to determine who will become Crack Amico and earn the first GaS Digital Records recording contract. You can view this moment below.
Over the next few months, a contest was held with over a hundred contestants. The contestants first had to deliver an original song which narrowed down the contest to a couple handfuls of contestants. Those who advanced then had to create an MTV Cribs style video showcasing their embodiment of the Crack Amico personality. After that, the remaining contestants had to battle one another through diss tracks they created to determine the true Crack Amico. Even though Acumental from Chicago-based The Palmer Squares was a contestant, the rapper now known as Crack Amico stood out throughout the whole competition.

Regardless of being unknown prior to earning the moniker, Crack Amico is without doubt a legitimately talented rapper. He has great lyricism and production quality, along with charisma and a sound rivaling Jack Harlow. Crack Amico is also hilarious with real comedic talent and timing. He not only writes great rap music, but also thoughtful jokes.

You can tell Crack Amico is a true fan of comedy and comedy podcasts as well. It shows not only in his music, but also through the posters he has in his studio of Patrice O'Neal, Matt & Shane's Secret Podcast, and Opie & Anthony. Crack also understands how to connect with the fans being a fan himself. He recently hosted a livestream centered around engaging with his fans and getting to know each other better.

What has been created is a true talent in comedy rap that people should be paying attention to. So far, Crack Amico's seven released songs have garnered over 150,000 views on YouTube. He has put out viral songs making fun of the culture of Los Angeles comedy and LA comedians, female comedians, and a diss track about the British from the perspective of an American. During these songs he has roasted Brendan Schaub worse than most, mocked the politically correct wokeness and disingenuous toxicity surrounding Los Angeles comedians, along with making regular references to the comedy community fans will appreciate. In a short period of time he has not only created a buzz among comedy fans, but has also earned fans among east coast comics he is a fan of.

Crack Amico recently performed on a stop of Luis J. Gomez and Aaron Berg's Offend Everyone Tour. He will also be releasing his first album September 12th and performing a live set at this year's Skankfest in Las Vegas. For those interested, they can check out his most popular songs along with a couple "TracksB4Crack" below. Make sure to follow and help support Crack Amico throughout his hilarious journey by subscribing to his YouTube and Spotify.