CrowdUltra Named Top 5 Best Podcast Apps Of 2023
---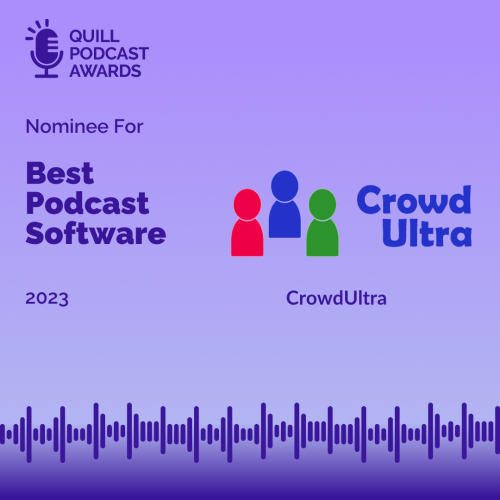 CrowdUltra has been named one of the top five best podcasting software applications of 2023 by the Quill Podcast Awards. Their app is joined by fellow industry leaders Spotify for Podcasters, Riverside.fm, Descript, and SquadCast.fm. The Quill Podcast Awards are some of the most prestigious in the podcasting industry, and being named one of the top five podcast software applications is a significant achievement for CrowdUltra. The Quill Podcast Awards celebrate the achievements of podcasters and podcast companies, recognizing the excellence of those making a positive impact in the space. The Top 5 Podcast Software category specifically honors the most essential software tools and apps for podcasters to produce high-quality content, engage with their audience, better connect their audience with one another, increase the size of their audience, and more.

CrowdUltra was selected as one of the top five apps and stands out from the other four by being the only social platform made for the podcasting world, bringing everyone closer together to strengthen any podcast community. CrowdUltra's app is part social network, part free all-in-one event and audience interaction app, and part ticketing/VIP membership platform. Their platform is focused on community, engagement, and enhancing any podcast or other occasion.

Riley Moore, CEO of CrowdUltra, elaborated on their award nomination:
"CrowdUltra's mission is to better empower podcasters, along with improving the ability for podcasters and their crowds to connect with each other. We have dedicated our focus to creating a social platform that does this better than any other app, and being named one of the top five podcast software apps is a true testament to what CrowdUltra brings to the table. We're extremely honored and feel validated by this award, knowing the nomination comes from a mix of all types of people in the podcasting industry voting for us. We are grateful to our users that have grown with us and took the time to vote. Hopefully this will help fuel our ability to make a larger impact throughout the podcasting world, along with allowing us to continue offering more innovative industry-leading features and benefits that progress podcasting as a whole."

About CrowdUltra
CrowdUltra is part free all-in-one event and audience interaction app, part ticketing/VIP membership platform, and part social network. They give podcasters the ability to create engaging experiences surrounding their podcast, enhance audience interaction, increase connection between audience members, provide robust information, easily connect with their community, and much more. CrowdUltra is used by top fifty podcasters in their categories, and was awarded Quill Podcast Agency's 'Top 5 Podcast Company' and 'Top 5 Marketing App' Awards in 2022.

Aside from podcasting, CrowdUltra was awarded Eventplanner.net's 'Best Event App of the Year' two years in a row (2021 & 2022). They were selected ahead of Eventbrite, Cvent, HopIn, Whova, and others for providing a creative solution unlike any other event app. CrowdUltra is also the only free all-in-one event app that can be utilized by any occasion, and are disrupting the ticketing industry by offering the ability to sell tickets for virtual, in-person, and hybrid events with the lowest fees and highest payouts. They only charge 3% + $1.50 per ticket transaction regardless of quantity passed on to the buyer, and their payout fee is a simple $1.50 for each payout no matter the size.

CrowdUltra is brought to you by RM4Tech. RM4Tech is the only family-owned and family-run software development company, entirely operated from start to finish by their family team (no outside employees or contracted consultants). Their mission is to affordably innovate and revolutionize people's lives through software while retaining their roots of a family-owned and family-operated business. They have been entirely bootstrapped by choice from the start due to ethical issues with venture capital, even though they've had different VC firms and incubators of various size and stature throughout the world seeking investment or acquisition. They're also ethically against involvement in pay-to-play schemes, which is why you won't see the deserved level of press coverage or expected advertising seen from lesser organizations.

Learn how CrowdUltra enhances any podcast here.