The Best Festival Vlogger Is The Festival Finesser
---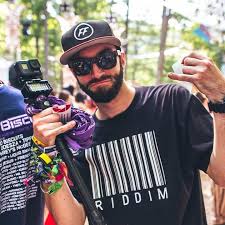 There are few things as fun and exciting as attending an EDM festival. They're such a good time that once they end, festival attendees often feel the "festival comedown" for days or weeks missing the experience as well as feeling sad about being back in the normal world. For anyone looking for a taste of the festival experience at home, they should definitely check out The Festival Finesser. He is without doubt the best festival vlogger, and will keep you entertained as well as informed while you wait to attend your next festival.

Brian who is known as The Festival Finesser makes YouTube videos about music festivals and live music events, as well as other informative content surrounding the attendee experience. Along with that, he is also a DJ who has performed at music festivals including most recently the Big Dub Festival. You can tell The Festival Finesser is a truly passionate fan with expert experience and knowledge. As far as we're concerned, he is the perfect person to be guiding and educating festival attendees.

The Festival Finesser releases the most viewed festival vlogs on YouTube and has gained over 2,500,000 video views. During his vlogs, he captures the experience of attending the festival with an up close and personal presentation. Each day of the festival gets its own vlog where he showcases the entire experience. Videos begin with Brian leaving his home, then arriving and getting ready, then attending live sets throughout the day, and finally end with whatever he does upon the festival finishing for the day. Having built relationships with many EDM DJs over the years and gaining a reputation for his content, he is often provided with on-stage and back-stage access that enables him to offer highly engaging content with captivating points of view only seen in his videos.

Aside from his vlogs which he is most known for, The Festival Finesser also releases additional great content any fan of festivals will enjoy watching. He creates Lineup Review Videos, sharing his thoughts and reviewing upcoming festivals. Brian also makes videos sharing festival survival guides and pro tips such as what to pack for a camping music festival. Lastly what we find as the coolest content he puts out, is sharing his planned set schedule for upcoming festivals he is attending so his viewers who are also attending can meet up and enjoy the experience with him.

The EDM, festival, and rave community should be following The Festival Finesser. He creates videos that will keep you informed and entertained, allowing you stay immersed in the world of live EDM events at every moment. For those interested, we have embedded a few playlists of different videos The Festival Finesser has released. Please make sure to support The Festival Finesser by subscribing to his YouTube Channel and liking his videos. Also check out his own music and follow him on SoundCloud.