The Impact Innovators Conference Is The Most Innovative Conference Of The Year
---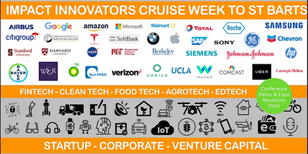 Today's CrowdUltra Conference of the Day is the Impact Innovators Conference. The Impact Innovators Conference is a week-long conference for business leaders and startup founders to meet and gather insights surrounding innovation. The conference is also a cruise held on a luxury cruise liner from Miami to Saint-Barthélemy Island in St Barts. The conference will be leaving Cruise Terminal F in Miami on November 22nd and return a week later on November 29th.

The conference is hosted by OneTraction, a global venture capitalism investment firm. Their focus is on-demand innovation ventures, "funding and building companies that matter in circular economy for a better tomorrow". They are also a global community with members from top venture capital, global innovation hubs, tech titans, and universities that include Google, Amazon, Apple, Tesla, Citibank, Accenture, Intel, Stanford, Harvard, and MIT.

The Impact Innovators Conference enables Global Fortune 500 leaders to interact with disruptive startup founders, explore latest emerging tech trends, potential partnership, funding or acquisition. The cruise conference will feature various activities including thought leadership speeches, fireside chat, discussions, startup pitches, startup demos, networking sessions, workshops, and a VIP reception. They are expecting a massive turnout with over 2,000 decision makers, comprised of Fortune 500 Companies across industries, over 500 Startup from seed to unicorn, and over 500 investors from VC to CVC and top Family Offices.

The conference includes multiple tracks featuring speaking events and activities focused on emerging tech trends including:


• Artificial Intelligence
• Quantum Computing
• Blockchain
• Ed-Tech
• Health-Tech
• Clean-Tech
• Food-Tech
• Industry 4.0
• Agro-Tech

Speakers at occasion will include over one hundred Fortune 500 executives, startup founders, VC partners, and prominent faculty members from top institutions like Harvard, MIT, and Stanford. Those announced so far include:


• Frank Yao – Bain Capital
• Shaloo Garg – Microsoft
• Marcus Behrendt – BMW
• Ricardo Angel – GE Ventures
• Michael Wee – Andreessen
• Yoshi Tanaka – Softbank
• Vinod Suresh – Walmart Labs
• Arthur Johnson – Twilio, Andreessen
• Tatyana Beldock – Johnson & Johnson
• Alfred Lin – Sequoia
• Bill Reichert – Harvard
• Dr. Ioana Cozmuta – Stanford, NASA
• Chris Yeh – Harvard
• Quinten Fourie - Thomson Reuters
• Azalia Mirhoseini – Google, MIT
• Higo Wagner – Airbus
• Marah Dudenhoeffer – Verizon Ventures
• Mark Weiss – Amazon
• Jonathan Salomon - Renault Nissan
• Eliza Chin – Harvard
• Dr. Matt Denesuk – MIT, IBM, Noodle
• Bipin Sahni - Wells Fargo
• Tracie Rotter – Google Ventures
• Raj Rao- Ford, IBM, GM
• Jean Rouge – Apple
• Angelo Priore – HP Ventures

To learn more and purchase your ticket, please click here. To see how CrowdUltra can enhance any conference, please click here.