Les Brown Named Best Motivational Speaker Of 2022
---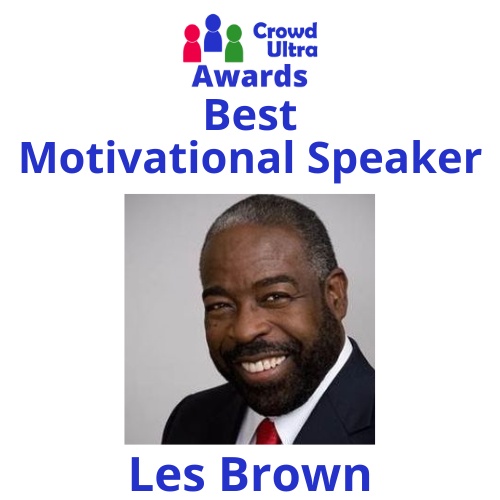 Les Brown has been named the best motivational speaker of 2022 by the CrowdUltra Awards. Les Brown is "a dynamic personality and highly-sought-after resource in business and professional circles for Fortune 500 CEOs, small business owners, non-profit and community leaders from all sectors of society looking to expand opportunity. For three decades he has not only studied the science of achievement, he's mastered it by interviewing hundreds of successful business leaders and collaborating with them in the boardroom translating theory into bottom-line results for his clients. As a premier Keynote Speaker and leading authority on achievement for audiences as large as 80,000—Les Brown energizes people to meet the challenges of the world around them. Les Brown is committed to motivating and training today's generation to be achievers and leaders. Les Brown's audio series, "Choosing Your Future," remains his all-time bestseller for its acclaimed impact worldwide. Les Brown is not only an internationally recognized speaker and CEO of Les Brown Unlimited, Inc., he is also the author of the highly acclaimed and successful book, Live Your Dreams, and former host of The Les Brown Show, a nationally syndicated daily television talk show which focused on solutions rather than problems."

Since CrowdUltra is focused on connecting crowds to bring everyone closer together, they've formed the CrowdUltra Awards to celebrate the best of all things with a crowd. After receiving over a thousand nominations, they narrowed down the top five motivational speaker nominees and Les Brown stood out for the quality of his work in a way that should be celebrated. The award was determined by a mix of submitted nominations along with our expert panel's assessment on a multitude of considerations including quality, community, and uniqueness.

For those who don't know, CrowdUltra is part free all-in-one event and audience interaction app, part ticketing platform, and part social network. They have been named Eventplanner.net's Best Event App the last two years as well as one of the Top 5 Podcast Companies and Top 5 Podcast Marketing Apps by the global podcasting agency Quill.

Learn more about how CrowdUltra can enhance any speaking occasion and increase connection among the community here.