Mark Normand & Sam Morril Launch Bodega Cat Whiskey
---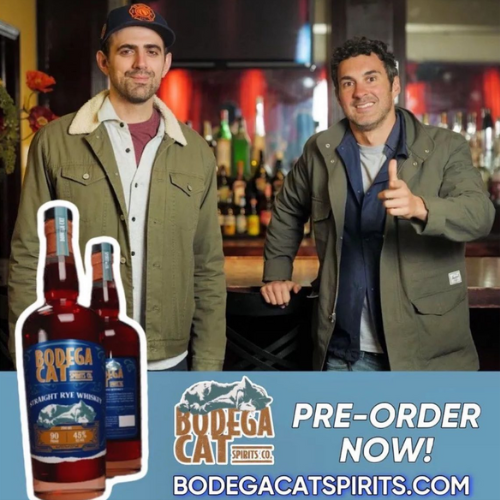 Mark Normand and Sam Morril are two of the hottest New York podcasting comedians. They are both hilarious and highly respected in the comedy community. Their most recent stand-up specials have garnered millions of views on YouTube and they also host multiple podcasts including We Might Be Drunk with one another. Hosting We Might Be Drunk was spawned by their appreciation for having a good conversation while indulging in alcoholic beverages together. Now the podcast has sparked the creation of their own Rye Whiskey named Bodega Cat Whiskey, that is currently available for pre-order to be shipped September 2022.

We Might Be Drunk is a podcast Mark Normand and Sam Morril have been hosting for a little over a year now and has become one of the most popular comedy podcasts with a six-figure audience. They discuss comedy, road stories, pet peeves, and recommendations while having a drink or two. Every episode typically features a different drink they indulge in such as Tito's and Kool-Aid with Bert Kreischer. Mark and Sam even include recipes for the drink they are enjoying on the episode, encouraging the audience to make themselves one as they join in on the conversation.

The podcast's popularity mixed with their passion for a good drink made creating their own alcoholic beverage make a lot of sense. They decided on creating a rye whiskey named Bodega Cat. For those who don't know, Wikipedia defines a bodega cat as "a type of working cat that inhabits a New York City bodega as a form of biological pest control to manage or prevent rodent infestations". A bodega is New York City terminology referring to a convenience store, which is the most common location in the city to purchase liquor outside of a bar. With Mark Normand and Sam Morril being New York comics through and through, the name could not be more fitting.

As they put it, "Bodega Cat Straight Rye Whiskey is the every man's pour, made to be enjoyed after a long day. Sip it straight or on the rocks, or hey, take it however you want it." Bodega Cat is distilled in Indiana and their mashbill is 95% Rye and 5% Malted Barley. The rye whiskey is intended to have "an approachable, minimally cut pour full of caramel, vanilla, and a nice kick of Rye Spice".

We think it's awesome when independent creators do things like this, and encourage you to support We Might Be Drunk's Bodega Cat Whiskey. We have included commercials and episodes of their podcast introducing Bodega Cat, along with their hit comedy specials below. Those interested can pre-order bottles here and stay up to date with Bodega Cat here.