Porter Robinson Created An Awesome One-Day EDM Festival
---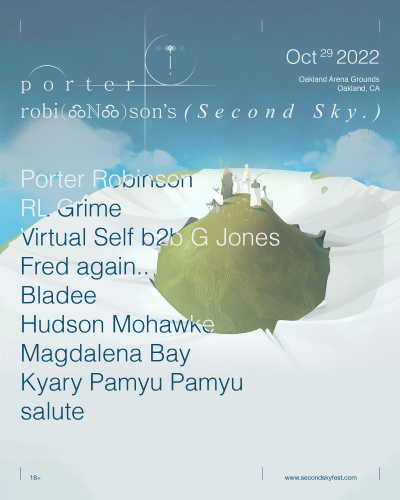 Porter Robinson is without doubt one of the most creative producers in EDM. He has been known for his unique sound and euphoric live sets with beautiful light shows unlike any other DJ is able to put on. This has led to him having a dedicated fanbase that love him and support him in whatever he does. Being able to perform as both Porter Robinson and Virtual Self on the largest stages like EDC Las Vegas is a testament to this.

Porter is now creatively expressing himself through hosting his own one day music festival. The festival is named Second Sky, and will be held on October 29th at the Oakland Arena Grounds in Oakland California. Second Sky's entire vibe comes from Robinson's brilliant mind, being an extension of who he is and what he'd want in a festival.

Porter will be headlining the festival as well as performing a live Virtual Self set. The festival also features eight other artists with a diverse range of sound. Those performing at Second Sky include:
You can check out the official Second Sky 2022 Spotify playlist created by Porter Robinson below:


Being huge fans of independent creators doing awesome and unique things, we encourage anyone in the area interested in EDM to support what Porter Robinson is doing. You not only support Porter and the rest of the artists on the lineup by doing so, but also enable other artists and creators to see it's possible to host their own live occasions. You can purchase a pass for Second Sky by clicking here. Learn more about how CrowdUltra can enhance any festival here.