Product School's Career Fair Is This Year's Best Career Fair
---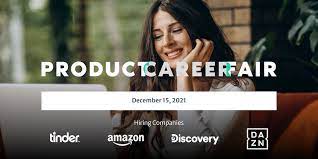 Today's CrowdUltra Virtual Event Of The Day is the Product Career Fair by Product School. The Product Career Fair is a leading career fair for product managers looking for new opportunities. The fair is being held on December 14th from 9:00 AM – 2:00 PM PST. The occasion is being hosted by Product School, who is the global leader in Product Management training with a community of over one million product professionals. Over the past two years of the Product Career Fair being held, there has been over fifty companies who have found talent and over one thousand job offers made.

The Product Career Fair is a live online event bringing together the most dynamic companies hiring with the most qualified product manager candidates to create an event like no other. Organizations will be able to engage through their virtual expo booth with a vast group of top-notch product managers proud to drive growth, innovation, and revenue. All job seeking candidates will be vetted by Product School in advance. Job seekers will be able to meet and network with hiring managers from the world's leading technology companies. They can share their digital resumes, discover what hiring managers are looking for, make connections, and accelerate their career while finding their dream job.

Companies Seeking Product Managers At The Fair Include:
To learn more about The Product Career Fair, click here. For product managers and companies interested in being a part of the Product Career Fair, you can apply for free until November. Those interested in sponsoring the occasion can apply to do so here.

To learn more about how CrowdUltra's free all-in-one event app can enhance any virtual event click here. Click here to learn how CrowdUltra can enhance any hybrid event.