TFcon Is The World's Largest Transformers Convention
---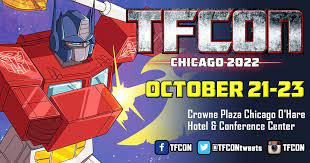 CrowdUltra's Convention Of The Day is TFcon. The convention is set to take place October 21st-23rd at the Crowne Plaza Chicago O'Hare Hotel & Conference Center in Chicago Illinois. This year will be the twenty-first year the convention has been held and is without doubt going to be the best one yet.

TFcon is a fan-run convention for Transformers fans. The convention was created because there was a lack of opportunities for fans to get together and celebrate their love for the Transformers franchise. Over the years they have organized amazing events during the convention, including the first and largest reunion of talent from Transformers Generation 1.

The Convention Offers:


• The world's largest dealer room for Transformers merchandise
• Q&A Panels with amazing Transformers guests
• Autograph sessions
• 3rd party product presentations
• Transformers trivia
• Cosplay and a Transformers costume contest

Their lineup of special guests has not yet been fully announced and is brought to you by The Chosen Prime.
The Lineup Includes:
You can view some Q&A Panels from the convention below:


To learn more and purchase a ticket, click here. To see how CrowdUltra can enhance any convention, please click here.