The Top 5 Arts Podcasts Presented By The CrowdUltra Awards
---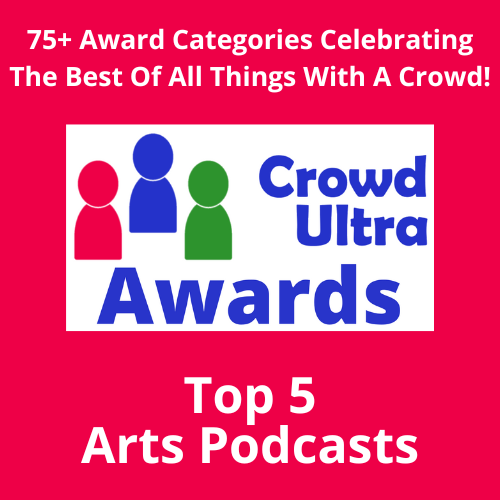 Since CrowdUltra is focused on connecting crowds to bring everyone closer together, they've formed the CrowdUltra Awards to celebrate the best of all things with a crowd. For those who don't know, CrowdUltra is part free all-in-one event and audience interaction app, part ticketing platform, and part social network. The CrowdUltra Awards features over 100 categories among segments they provide value to including events, podcasting, event talent, and event planning.

After receiving over a thousand nominations, they narrowed down the top five arts podcast nominees. These podcasts stood out among the rest and should be celebrated for the quality of their work. Those selected were determined by a mix of submitted nominations along with our expert panel's assessment on a multitude of considerations including quality, community, and uniqueness. See who was selected and learn about them below.

The Top 5 Arts Podcasts Feature:
Art Side of Life
Description:
Art Side of Life is a podcast and YouTube show dedicated to inspiring artists to pursue their passion in life and take action to make money as an artist. It is the perfect companion for your commute to school, work, or while you are creating.
Creating Behavior
Description:
The Creating Behavior podcast is a source of inspiration for the serious actor, a reference point for all of you who have the vision of being a respected artist. A show for those of you who have a yearning to illuminate the human condition in all its aspects. Join Charlie Sandlan each week for a mix of solo shows and interviews, as he nourishes your intellectual curiosity, answers your questions about the art form, and inspires you to go the distance with yourself.
Makers & Mystics
Description:
Makers & Mystics is the podcast for the art-driven, spiritually adventurous seekers of truth and lovers of life.
Talk Art
Description:
Actor Russell Tovey and gallerist Robert Diament host Talk Art, a podcast dedicated to the world of art featuring exclusive interviews with leading artists, curators & gallerists, and even occasionally their talented friends from other industries like acting, music and journalism. Listen in to explore the magic of art and why it connects us all in such fantastic ways.
Who Arted
Description:
Who Arted is art history and art education for everyone. While most art history podcasts focus on the traditional "fine art" we see in museums around the world, Who ARTed celebrates art in all of its forms and in terms anyone can understand. Each episode tells the story of a different artist and artwork including the traditional big names like Leonardo da Vinci, Pablo Picasso and Andy Warhol along with lesser-known artists working in such diverse media as video game design, dance, the culinary arts, and more.