The Top 5 Charity / Non-Profit Podcasts Presented By The CrowdUltra Awards
---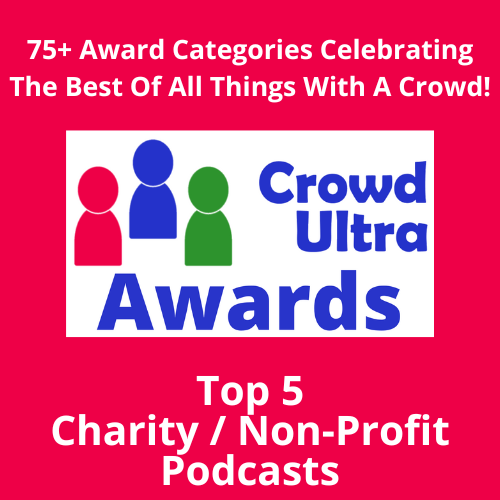 Since CrowdUltra is focused on connecting crowds to bring everyone closer together, they've formed the CrowdUltra Awards to celebrate the best of all things with a crowd. For those who don't know, CrowdUltra is part free all-in-one event and audience interaction app, part ticketing platform, and part social network. The CrowdUltra Awards features over 100 categories among segments they provide value to including events, podcasting, event talent, and event planning.

After receiving over a thousand nominations, they narrowed down the top five charity / non-profit podcast nominees. These podcasts stood out among the rest and should be celebrated for the quality of their work. Those selected were determined by a mix of submitted nominations along with our expert panel's assessment on a multitude of considerations including quality, community, and uniqueness. See who was selected and learn about them below.

The Top 5 Charity / Non-Profit Podcasts Feature:
Grant Writing Simplified
Description:
The world needs you to step forward as a grant writer and lead with confidence. I'll teach you how. Welcome to the Grant Writing Simplified podcast where you'll learn how to scale your income AND impact through grant writing and nonprofit consulting.
Nonprofits Are Messy
Description:
Hosted by Joan Garry, the "Dear Abby" of the nonprofit world, Nonprofits Are Messy is a discussion of the most pressing issues faced by nonprofit leadership. Joan and her guests tackle topics like the overhead myth, the best way to run special events, how to make a big fundraising ask, board-staff relations, and so much more. At times hilarious, uplifting, and frustrating, the stories told in this podcast should feel very familiar to anybody working in a nonprofit today.
Nonprofit Lowdown
Description:
This is Nonprofit Lowdown where I review and recommend the best ideas, resources, tools, tricks and tips to run your nonprofit like a pro!
The Successful Nonprofits Podcast
Description:
Gain insight to help your nonprofit thrive in a competitive environment.
Your Path to Nonprofit Leadership
Description:
Dr. Patton McDowell brings the best in nonprofit career development to each episode, helping you find the perfect nonprofit opportunity and guiding you along the path to senior leadership in the philanthropic sector. Patton brings 30 years of nonprofit leadership, coaching and consulting experience, and shares best practices for individual and organizational success based on his work with over 250 nonprofit organizations and their staff and board leaders.