The Top 5 Culture / Society Podcasts Presented By The CrowdUltra Awards
---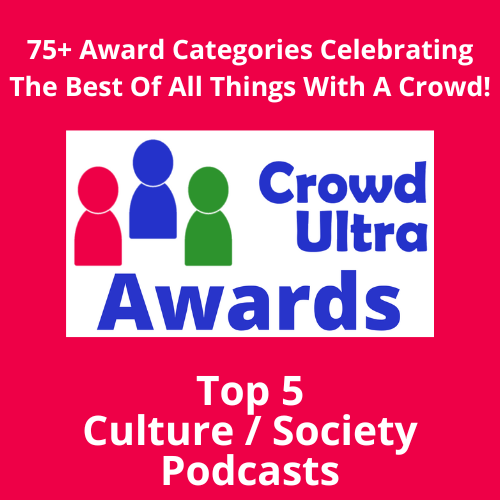 Since CrowdUltra is focused on connecting crowds to bring everyone closer together, they've formed the CrowdUltra Awards to celebrate the best of all things with a crowd. For those who don't know, CrowdUltra is part free all-in-one event and audience interaction app, part ticketing platform, and part social network. The CrowdUltra Awards features over 100 categories among segments they provide value to including events, podcasting, event talent, and event planning.

After receiving over a thousand nominations, they narrowed down the top five culture / society podcast nominees. These podcasts stood out among the rest and should be celebrated for the quality of their work. Those selected were determined by a mix of submitted nominations along with our expert panel's assessment on a multitude of considerations including quality, community, and uniqueness. See who was selected and learn about them below.

The Top 5 Culture / Society Podcasts Feature:
Freakonomics Radio
Description:
Discover the hidden side of everything with Stephen J. Dubner, co-author of the Freakonomics books. Each week, Freakonomics Radio tells you things you always thought you knew (but didn't) and things you never thought you wanted to know (but do) — from the economics of sleep to how to become great at just about anything. Dubner speaks with Nobel laureates and provocateurs, intellectuals and entrepreneurs, and various other underachievers.
Hotboxin' With Mike Tyson
Description:
Listen as Mike Tyson, the baddest man on the planet, pours his soul into conversations with fascinating minds, celebrities and athletes in a studio full of smoke.
Modern Wisdom
Description:
Life lessons from the smartest people on the planet.
The Black Rifle Coffee Podcast
Description:
Hosts Jarred Taylor, Evan Hafer, Mat Best, and Logan Stark interview inspiring American heroes, adventurers, and entrepreneurs in the most Pro-American podcast to exist since 1776. New episodes every Monday and Friday.
Under The Skin with Russell Brand
Description:
A weekly interview series from Russell Brand that examines what's beneath the surface—of the people we admire, the ideas that define our time, and the history we're told. Speaking with guests from the worlds of academia, popular culture, and the arts, Russell seeks to uncover the ulterior truth behind our constructed reality. And have a laugh.