The Top 5 Fiction Podcasts Presented By The CrowdUltra Awards
---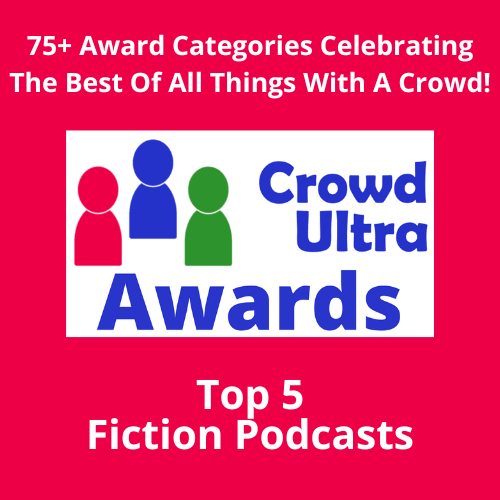 Since CrowdUltra is focused on connecting crowds to bring everyone closer together, they've formed the CrowdUltra Awards to celebrate the best of all things with a crowd. For those who don't know, CrowdUltra is part free all-in-one event and audience interaction app, part ticketing platform, and part social network. The CrowdUltra Awards features over 100 categories among segments they provide value to including events, podcasting, event talent, and event planning.

After receiving over a thousand nominations, they narrowed down the top five fiction podcast nominees. These podcasts stood out among the rest and should be celebrated for the quality of their work. Those selected were determined by a mix of submitted nominations along with our expert panel's assessment on a multitude of considerations including quality, community, and uniqueness. See who was selected and learn about them below.

The Top 5 Fiction Podcasts Feature:
1001 Sherlock Holmes Stories & The Best of Sir Arthur Conan Doyle
Description:
A truly enjoyable and growing collection of Sherlock Holmes Adventures and the best stories of Sir Arthur Conan Doyle, one of Britain's greatest storytellers. Narration by master storyteller Jon Hagadorn (1001 Stories Network).
CHAD: A Fallout 76 Story
Description:
Dark humor, rich storytelling, memorable characters and a cinematic soundscape...over HALF A MILLION people agree that this is a story you won't forget! Featured by Bethesda and Forbes Magazine, this podcast tells the story of two Vault Dwellers who emerge from Vault 76 and their eternal struggle against each other that will tear the region apart.
Do Dragons Dream Of Scorched Sheep?
Description:
A bi-weekly D&D podcast brought to you by @ModernEscapism. Listen to the triumphant adventures of Stigveld, T'Reble O'Clef, Calbo Greymerkin & Capri Smitty as they explore the world of Erethria in search of fame, fortune and a nice tankard of ale.
The Truth
Description:
THE TRUTH makes movies for your ears. They're short stories that are sometimes dark, sometimes funny, and always intriguing. Every story is different, but they all take you to unexpected places using only sound. If you're new, some good starting places are: Silvia's Blood, That's Democracy, Moon Graffiti, Tape Delay, or whatever's most recent.
Westside Fairytales
Description:
Westside Fairytales is a collection of award-winning horror and dark fiction stories written and read by author Tyler Bell. New episodes most Fridays.