The Top 5 Gaming Podcasts Presented By The CrowdUltra Awards
---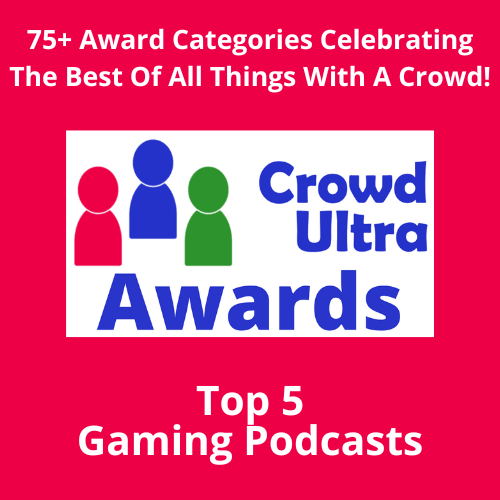 Since CrowdUltra is focused on connecting crowds to bring everyone closer together, they've formed the CrowdUltra Awards to celebrate the best of all things with a crowd. For those who don't know, CrowdUltra is part free all-in-one event and audience interaction app, part ticketing platform, and part social network. The CrowdUltra Awards features over 100 categories among segments they provide value to including events, podcasting, event talent, and event planning.

After receiving over a thousand nominations, they narrowed down the top five gaming podcast nominees. These podcasts stood out among the rest and should be celebrated for the quality of their work. Those selected were determined by a mix of submitted nominations along with our expert panel's assessment on a multitude of considerations including quality, community, and uniqueness. See who was selected and learn about them below.

The Top 5 Gaming Podcasts Feature:
GameSpot After Dark
Description:
Each and every week Lucy James, Tamoor Hussain, Jean-Luc Seipke, Jordan Ramée, Jake Dekker and the rest of the GameSpot team share their insight on some of your favorite games and the industry at large.
Game Scoop!
Description:
IGN.com shoots a week's worth of gaming news straight into your ear!
Kinda Funny Gamescast
Description:
Weekly video game reviews, previews, and analysis of the biggest topics in gaming, covering the latest in PlayStation, Xbox, Nintendo and more! Hosted by Tim Gettys, Greg "GameOverGreggy" Miller, Blessing Adeoye, and Andy Cortez.
The Tabletop Bellhop
Description:
The Tabletop Bellhop, is your cardboard concierge. Here to answer your game and game night questions, striving to make everyone's gaming experience better. Board game and RPG News, reviews and Q&A.
The XboxCast
Description:
Join Kyle, Lee and Simone as they balance their gaming life with real life.