The Top 5 Keynote/Public Speakers Presented By The CrowdUltra Awards
---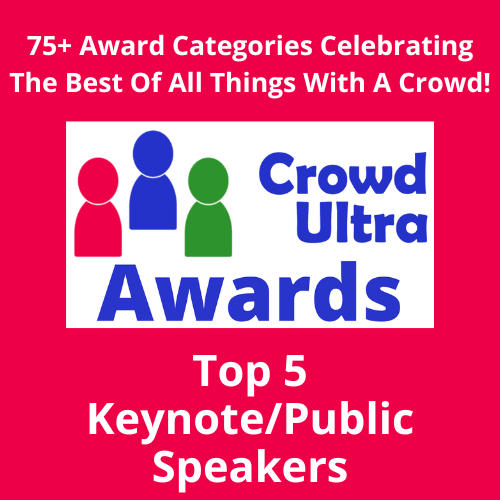 Since CrowdUltra is focused on connecting crowds to bring everyone closer together, they've formed the CrowdUltra Awards to celebrate the best of all things with a crowd. For those who don't know, CrowdUltra is part free all-in-one event and audience interaction app, part ticketing platform, and part social network. The CrowdUltra Awards features over 100 categories among segments they provide value to including events, podcasting, event talent, and event planning.

After receiving over a thousand nominations, they narrowed down the top five keynote/public speaker nominees. These keynote/public speakers stood out among the rest and should be celebrated for the quality of their work. Those selected were determined by a mix of submitted nominations along with our expert panel's assessment on a multitude of considerations including quality, community, and uniqueness. See who was selected and learn about them below.

The Top 5 Keynote/Public Speakers Feature: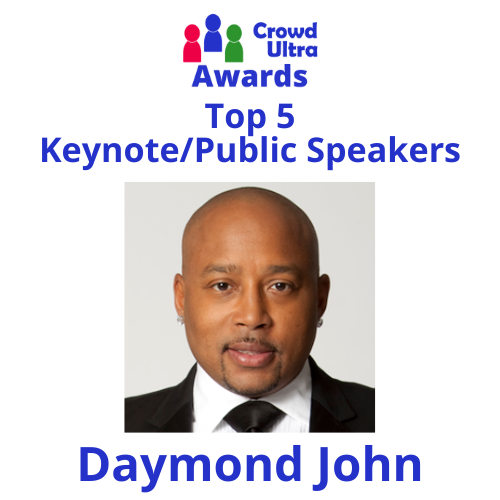 Daymond John
Description:
John is CEO, President, and Founder of FUBU, a much-celebrated global lifestyle brand, and a pioneer in the fashion industry with over $6 billion in product sales world-wide. John is an award-winning entrepreneur, and he has received over 35 awards including the Brandweek Marketer of the Year, E&Y's New York Entrepreneur of the Year Award and, most recently, was named #4 on LinkedIn's Top 20 Voices. John is also an author of four best-selling books including his New York Times best-selling books, "The Power of Broke" (2016) and "Rise and Grind" (2018). Finally, he's celebrating his 12th season on ABC's hit business show "Shark Tank" by acclaimed producer Mark Burnett, which has reinvigorated entrepreneurship around the world.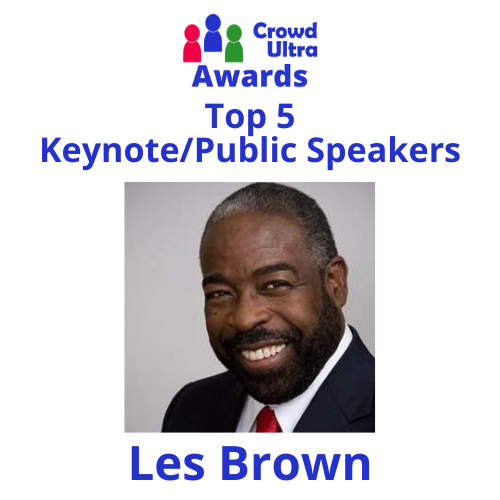 Les Brown
Description:
As one of the world's most renowned keynote/public speakers, Les Brown is a dynamic personality and highly-sought-after resource in business and professional circles for Fortune 500 CEOs, small business owners, non-profit and community leaders from all sectors of society looking to expand opportunity. For three decades he has not only studied the science of achievement, he's mastered it by interviewing hundreds of successful business leaders and collaborating with them in the boardroom translating theory into bottom-line results for his clients. As a premier Keynote Speaker and leading authority on achievement for audiences as large as 80,000—Les Brown energizes people to meet the challenges of the world around them. Les Brown is committed to motivating and training today's generation to be achievers and leaders. Les Brown's audio series, "Choosing Your Future," remains his all-time bestseller for its acclaimed impact worldwide. Les Brown is not only an internationally recognized speaker and CEO of Les Brown Unlimited, Inc., he is also the author of the highly acclaimed and successful book, Live Your Dreams, and former host of The Les Brown Show, a nationally syndicated daily television talk show which focused on solutions rather than problems.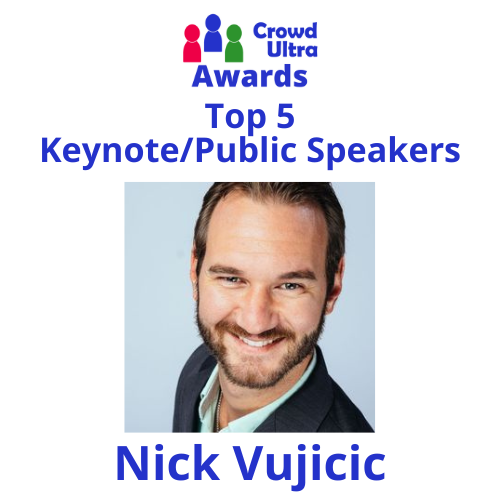 Nick Vujicic
Description:
Aussie-American Nick Vujicic is an entrepreneur, internationally known speaker, and author, who has traveled the globe sharing his life story to inspire millions of people. He motivates and equips people of all ages to dream big and never give up, as he shares his faith, values, and the principles of how he transformed his life from a life without limbs into a life without limits! He co-founded multiple non-profit organizations including Life Without Limbs and Unbound Warrior, and through his passion to fight against bullying he, with partners at Noble Education Initiative, developed a full comprehensive, academic, social-emotional learning curriculum for public and private schools and students of all ages. Vujicic has written 6 books, which have sold over 3 million copies in 30+ languages and has had the opportunity to address 10 national governments, as well as meet 21 Presidents, Vice Presidents, and Prime Ministers. Corporations that have had Vujicic motivate their teams include Google, Keller Williams, JP Morgan Chase, Remax, FranklinCovey, NuSkin, Young Living, Monat, Isagenix, Plexus, USANA, Cisco, and countless more.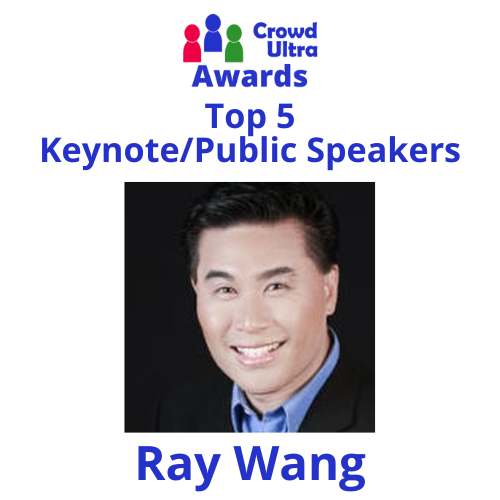 Ray Wang
Description:
Ray Wang is the Founder, Chairman and Principal Analyst of Silicon Valley based Constellation Research Inc., a research and advisory firm which studies disruptive business and exponential technology trends. Wang's the co-host and co-founder of the widely watched DisrupTV, a weekly enterprise tech and leadership webcast that averages 50,000 views per episode. He's also the author of the popular business strategy and technology blog "A Software Insider's Point of View" that has received millions of page views per month. Wang also serves as a non-resident Senior Fellow at The Atlantic Council's GeoTech Center. Since 2003, Wang has delivered thousands of live and virtual keynotes around the world that are inspiring and legendary.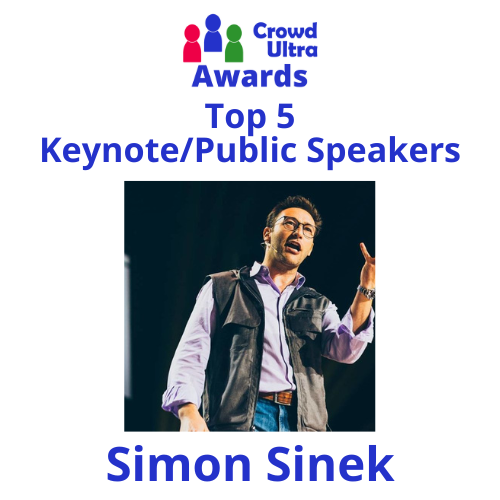 Simon Sinek
Description:
Simon Sinek is an author and inspirational speaker. He is the author of five books, including Start With Why and The Infinite Game.