The Top 5 Literature Podcasts Presented By The CrowdUltra Awards
---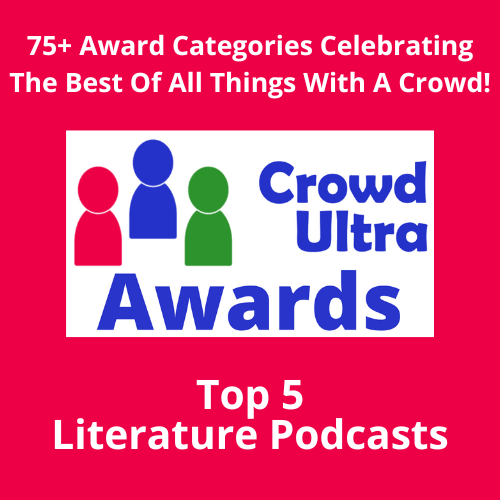 Since CrowdUltra is focused on connecting crowds to bring everyone closer together, they've formed the CrowdUltra Awards to celebrate the best of all things with a crowd. For those who don't know, CrowdUltra is part free all-in-one event and audience interaction app, part ticketing platform, and part social network. The CrowdUltra Awards features over 100 categories among segments they provide value to including events, podcasting, event talent, and event planning.

After receiving over a thousand nominations, they narrowed down the top five literature podcast nominees. These podcasts stood out among the rest and should be celebrated for the quality of their work. Those selected were determined by a mix of submitted nominations along with our expert panel's assessment on a multitude of considerations including quality, community, and uniqueness. See who was selected and learn about them below.

The Top 5 Literature Podcasts Feature:
Book Riot – The Podcast
Description:
A weekly news and talk show about what's new, cool, and worth talking about in the world of books and reading, brought to you by the editors of BookRiot.com.
Hardcore Literature
Description:
Welcome to your new favourite book club. If you enjoy deep dives into the greatest books ever written, you will love Hardcore Literature.
Mysterious Goings On
Description:
Every week, we take on the mysteries of creativity, writing, and more.
The History of English Podcast
Description:
A chronological history of the English language examined through the lens of historical events that shaped the development and spread of the language from the Eurasian steppe to the entire world.
Thoughts from a Page
Description:
Thoughts from a Page is hosted by Cindy Burnett, a voracious reader and book columnist who provides you with casual author conversations and insider information on all of the newest releases that I have read and personally recommend.