The Top 5 Military/Veteran Speakers Presented By The CrowdUltra Awards
---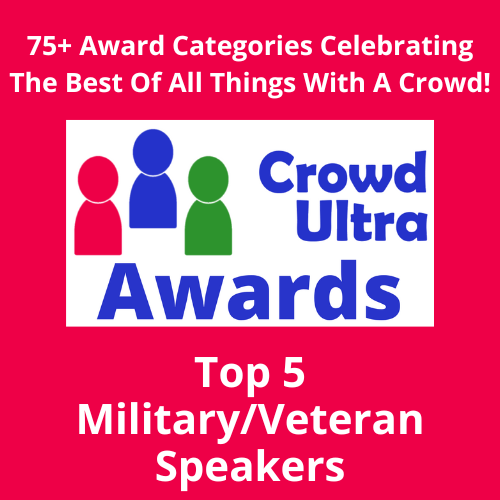 Since CrowdUltra is focused on connecting crowds to bring everyone closer together, they've formed the CrowdUltra Awards to celebrate the best of all things with a crowd. For those who don't know, CrowdUltra is part free all-in-one event and audience interaction app, part ticketing platform, and part social network. The CrowdUltra Awards features over 100 categories among segments they provide value to including events, podcasting, event talent, and event planning.

After receiving over a thousand nominations, they narrowed down the top five military/veteran speaker nominees. These military/veteran speakers stood out among the rest and should be celebrated for the quality of their work. Those selected were determined by a mix of submitted nominations along with our expert panel's assessment on a multitude of considerations including quality, community, and uniqueness. See who was selected and learn about them below.

The Top 5 Military/Veteran Speakers Feature: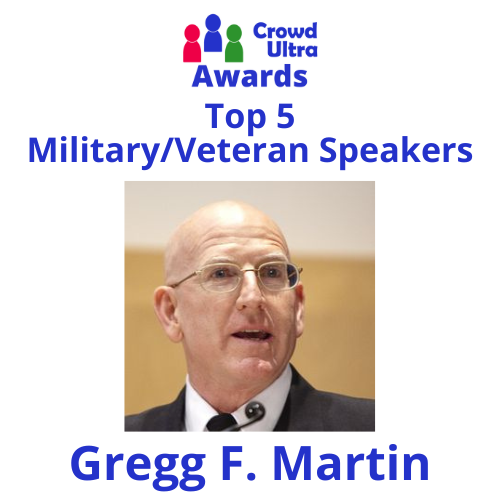 Gregg F. Martin
Description:
Gregg F. Martin, PhD, Major General, US Army (Retired), served on active duty for 36 years, until May 2015. He is a combat veteran, Bipolar Survivor, Airborne-Ranger-Engineer qualified soldier, and Army Strategist. He holds a Ph.D. and two masters degrees from MIT, masters degrees in national security strategy from both the Army and Naval war colleges, and a bachelors degree from West Point. He commanded an engineer company, battalion, the 130th Engineer Brigade in combat during the first year of the Iraq War in 2003-04, including the attack from Kuwait, up the Euphrates River Valley, to Baghdad and beyond. He served multiple overseas tours, and, as a general officer, commanded the Corps of Engineers Northwest Division, was Commandant of the Army Engineer School, commanded Fort Leonard Wood, was Deputy Commanding General of Third Army/US Army Central, Commandant of the Army War College, President of National Defense University, and Special Assistant to the Chief of Engineers. He was awarded the Distinguished Service Medal (twice), the Bronze Star Medal, and the Combat Action Badge.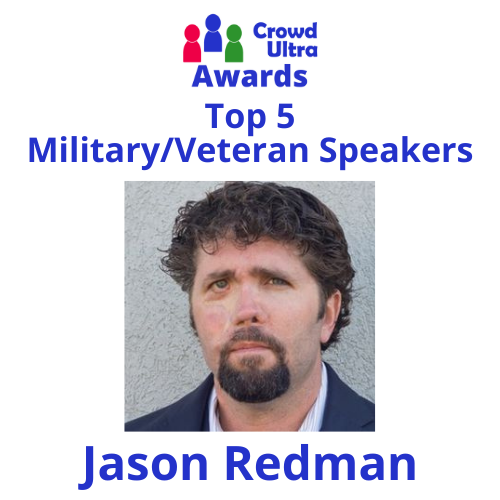 Jason Redman
Description:
Retired Navy SEAL and business leader Jason Redman is a severely wounded warrior, NY Times and Amazon bestselling author, veteran advocate, business leader, and acclaimed leadership and resilience speaker. From a potentially career-ending leadership failure, Redman fought back to redemption and respect only to find himself shot eight times including a round to the face in a fierce firefight in Iraq. Redman now motivates and inspires audiences across the country with his remarkable journey of leadership, redemption, and building a relentless Overcome Mindset. After a 21-year career, Redman retired from the Navy in 2013 and founded SOF Spoken, a speaking and coaching company which provides inspirational presentations on leadership, teamwork and overcoming adversity for businesses, first responders, sports teams, and government organizations.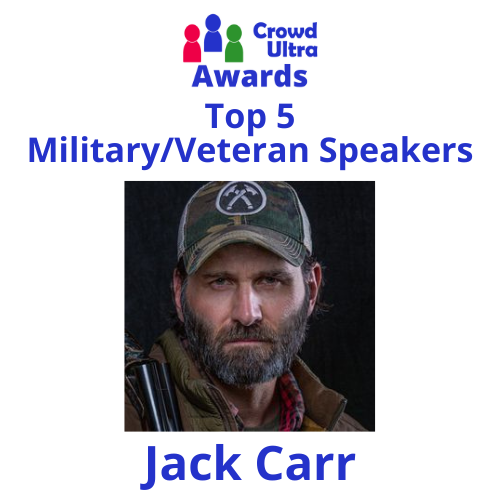 Jack Carr
Description:
Jack Carr is a bestselling thriller author, former Navy SEAL sniper, and avid outdoorsman. Carr led special operations teams as a Team Leader, Platoon Commander, Troop Commander and Task Unit Commander. Over his 20 years in Naval Special Warfare he transitioned from an enlisted SEAL sniper, to a junior officer leading assault and sniper teams in Iraq and Afghanistan, to a platoon commander practicing counterinsurgency in the southern Philippines, to commanding a Special Operations Task Unit in the most Iranian influenced section of southern Iraq throughout the tumultuous drawdown of U.S. Forces. A sought-after consultant in the outdoor and tactical industries, Carr speaks regularly on leadership and team building to businesses across industries. His acclaimed first novel, "The Terminal List," is a political military thriller about a Navy SEAL who discovers that he has been betrayed by the U.S. government — and his quest for vengeance. His other books include "True Believer," "Savage Son," "The Devil's Hand," and "In the Blood." Carr also serves on the board of directors of Valor for Life, a non-profit organization providing military veterans with no-cost surgical spine care.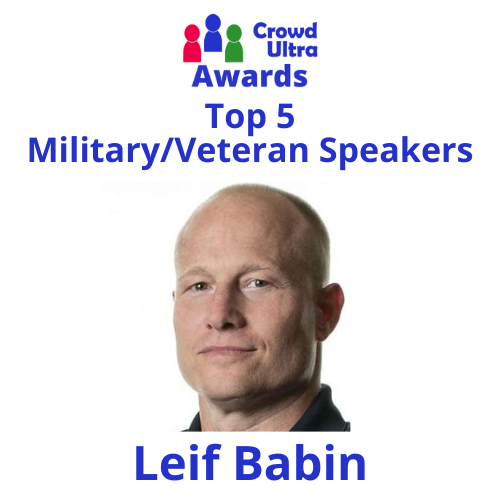 Leif Babin
Description:
Leif Babin is a former U.S. Navy SEAL officer, co-author of #1 New York Times bestseller "Extreme Ownership: How U.S. Navy SEALs Lead and Win," and co-founder of Echelon Front, where he serves as President and Chief Operating Officer, leadership instructor, speaker, and strategic advisor. A graduate of the U.S. Naval Academy, Babin served thirteen years in the Navy, including nine in the SEAL Teams. As a SEAL platoon commander in SEAL Team Three's Task Unit Bruiser, he planned and led major combat operations in the Battle of Ramadi that helped the "Ready First" Brigade of the US Army's 1st Armored Division achieve victory. Task Unit Bruiser became the most highly decorated special operations unit of the Iraq War. He is the recipient of the Silver Star, two Bronze Stars, and a Purple Heart. Upon his departure from active duty, Babin co-founded Echelon Front, a premier leadership consulting company that helps others build their own high-performance winning teams.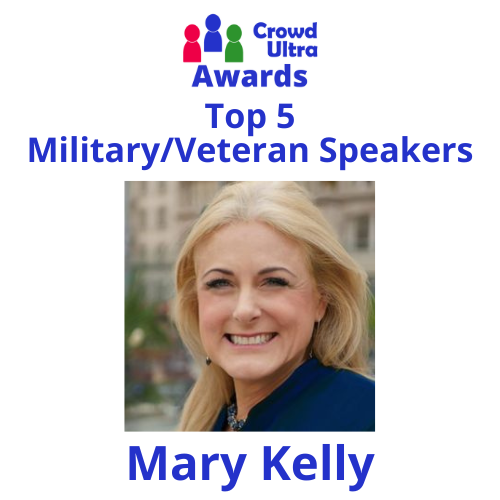 Mary Kelly
Description:
Mary Kelly Ph.D., CSP, CDR, US Navy Ret is a graduate of the United States Naval Academy and spent over 20 years on active duty in intelligence and logistics. She retired from the Navy as a commander. She has masters' degrees in history and economics, and a PhD in economics. With over 20 years combined teaching experience at both the Naval Academy and at Hawaii Pacific University, she taught economics, finance, history and management. Mary is a high-energy keynote speaker that speaks to 70+ organizations a year and has worked with organizations such as AMC Institute, National Association of REALTORS, HealthOne, U.S. Air Force, LPL Financial and many more.