The Top 5 Mystery Podcasts Presented By The CrowdUltra Awards
---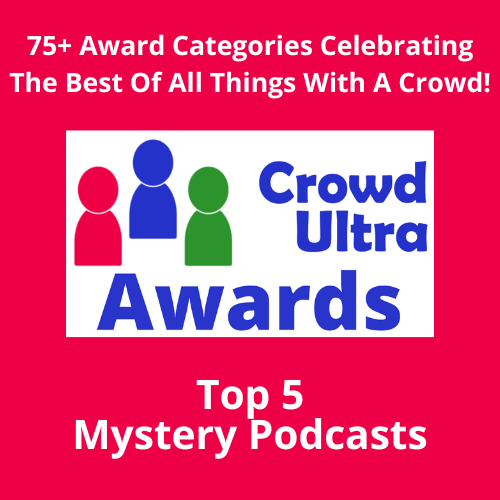 Since CrowdUltra is focused on connecting crowds to bring everyone closer together, they've formed the CrowdUltra Awards to celebrate the best of all things with a crowd. For those who don't know, CrowdUltra is part free all-in-one event and audience interaction app, part ticketing platform, and part social network. The CrowdUltra Awards features over 100 categories among segments they provide value to including events, podcasting, event talent, and event planning.

After receiving over a thousand nominations, they narrowed down the top five mystery podcast nominees. These podcasts stood out among the rest and should be celebrated for the quality of their work. Those selected were determined by a mix of submitted nominations along with our expert panel's assessment on a multitude of considerations including quality, community, and uniqueness. See who was selected and learn about them below.

The Top 5 Mystery Podcasts Feature:
Chilling True Tales
Description:
I have collected REAL stories from real people over the years about their experiences and with permission I am retelling them to you.
Darknet Diaries
Description:
Explore true stories of the dark side of the Internet with host Jack Rhysider as he takes you on a journey through the chilling world of hacking, data breaches, and cyber crime.
Scary Story Podcast
Description:
Scary Story Podcast features scary stories about darkness, unexplained phenomena, ghosts, and the paranormal. A collection of short original horror tales written by Edwin Covarrubias.
The Folklore Podcast
Description:
Folklore: Beliefs, traditions & culture of the people. Traditional folklore themes from around the world. One episode each month features a special guest from the field of folklore. Recalling our forgotten history, recording the new.
UFO Chronicles Podcast
Description:
First-hand witness encounters of the Strange and unexplained. The host Nik will take you head first down the rabbit hole in a refreshing and different podcast format. Witness accounts from everyday people from all over the world with uninterrupted monologues of their encounters.