The Top 5 New Charity / Non-Profit Podcasts Presented By The CrowdUltra Awards
---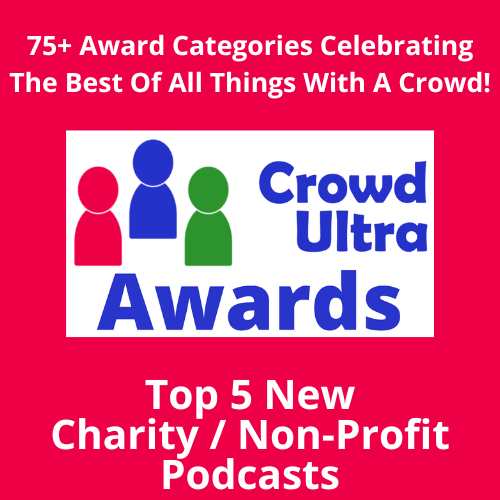 Since CrowdUltra is focused on connecting crowds to bring everyone closer together, they've formed the CrowdUltra Awards to celebrate the best of all things with a crowd. For those who don't know, CrowdUltra is part free all-in-one event and audience interaction app, part ticketing platform, and part social network. The CrowdUltra Awards features over 100 categories among segments they provide value to including events, podcasting, event talent, and event planning.

After receiving over a thousand nominations, they narrowed down the top five new charity / non-profit podcast nominees. These podcasts stood out among the rest and should be celebrated for the quality of their work. Those selected were determined by a mix of submitted nominations along with our expert panel's assessment on a multitude of considerations including quality, community, and uniqueness. See who was selected and learn about them below.

The Top 5 New Charity / Non-Profit Podcasts Feature:
A Modern Nonprofit Podcast
Description:
A Modern Nonprofit Podcast, powered by The Charity CFO, explores the most important business and culture topics in the nonprofit sector. Hosted by Tosha Anderson, each episode will feature an informative, lighthearted and insightful discussion about what's trending in today's organizations.
Association Transformation
Description:
Welcome to Association Transformation, a transatlantic conversation advancing the impact and evolution of non-profit organizations. Together with our special guests, each episode we take a deep dive into the issues, topics, challenges and opportunities facing the association community.
Giving Done Right
Description:
From the Center for Effective Philanthropy (CEP), Giving Done Right is the show with everything you need to know to make an impact with your charitable giving.
The Nonstop Nonprofit Podcast
Description:
The Nonstop Nonprofit podcast from Funraise is your one-stop-shop for the hottest insights on all topics that are typically top-of-mind for nonprofiteers!
Volunteer Nation
Description:
Nonprofit leadership author, coach, and expert Tobi Johnson shares weekly tips to help charities build, grow, and scale exceptional volunteer teams.