The Top 5 New Culture / Society Podcasts Presented By The CrowdUltra Awards
---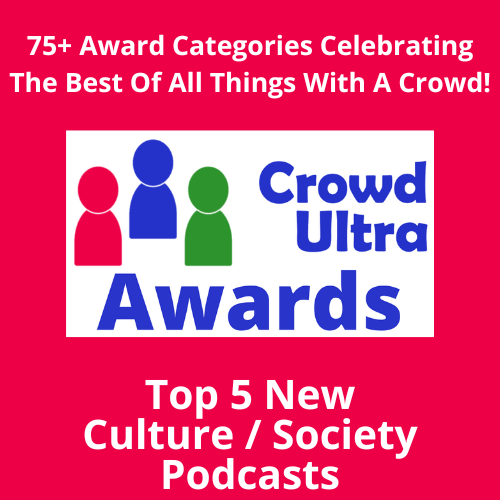 Since CrowdUltra is focused on connecting crowds to bring everyone closer together, they've formed the CrowdUltra Awards to celebrate the best of all things with a crowd. For those who don't know, CrowdUltra is part free all-in-one event and audience interaction app, part ticketing platform, and part social network. The CrowdUltra Awards features over 100 categories among segments they provide value to including events, podcasting, event talent, and event planning.

After receiving over a thousand nominations, they narrowed down the top five new culture / society podcast nominees. These podcasts stood out among the rest and should be celebrated for the quality of their work. Those selected were determined by a mix of submitted nominations along with our expert panel's assessment on a multitude of considerations including quality, community, and uniqueness. See who was selected and learn about them below.

The Top 5 New Culture / Society Podcasts Feature:
Full Send Podcast
Description:
Full Send Podcast hosted by NELK's Kyle Forgeard and friends.
Insanely Chill With Cody Ko
Description:
Comedian and YouTuber Cody Ko talks to himself about PRESSING ISSUES.
JUST SAYIN' with Justin Martindale
Description:
Comedian Justin Martindale breaks down the hottest stories, gossip, headlines and fashion in this weekly entertainment roundup podcast.
My Family Thinks I'm Crazy
Description:
Join Me, your Host Mystic Mark two or more episodes a week as we discuss out of the box concepts with people who take the road less traveled. From Bizarre Events, Conspiracy, Mystery, Intrigue, Spirituality, Paranormal, Supernatural, Alternative, Ancient, Lost to Forbidden Knowledge Ancient Wisdom and so much more!
Two Hot Takes
Description:
Join host Morgan Absher and her team of co-hosts as they scavenge Reddit, listener write-ins, and the rest of the internet to give their hot takes on the juiciest dating, relationship, life, and AITA stories.