The Top 5 New Education Podcasts Presented By The CrowdUltra Awards
---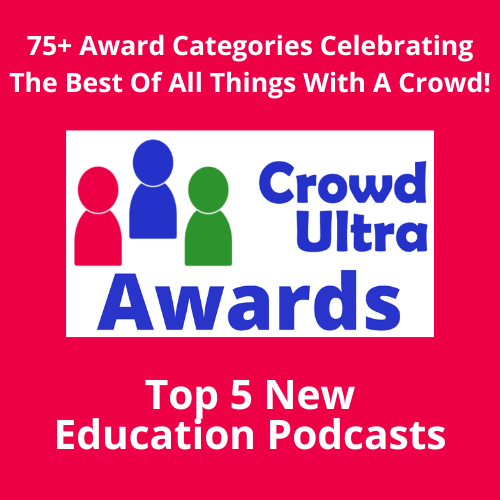 Since CrowdUltra is focused on connecting crowds to bring everyone closer together, they've formed the CrowdUltra Awards to celebrate the best of all things with a crowd. For those who don't know, CrowdUltra is part free all-in-one event and audience interaction app, part ticketing platform, and part social network. The CrowdUltra Awards features over 100 categories among segments they provide value to including events, podcasting, event talent, and event planning.

After receiving over a thousand nominations, they narrowed down the top five new education podcast nominees. These podcasts stood out among the rest and should be celebrated for the quality of their work. Those selected were determined by a mix of submitted nominations along with our expert panel's assessment on a multitude of considerations including quality, community, and uniqueness. See who was selected and learn about them below.

The Top 5 New Education Podcasts Feature:
Building Knowledge
Description:
Building Knowledge explores the mission and vision of the Core Knowledge Foundation through its content and the schools that utilize it.
Healthy with Heather Brown
Description:
Heather Brown and her husband Eric host conversations that matter about marriage, health, parenting, faith, and fun, with a healthy dose of Southern sass.
Giving Done Right
Description:
From the Center for Effective Philanthropy (CEP), Giving Done Right is the show with everything you need to know to make an impact with your charitable giving.
GrowCast
Description:
GrowCast is one of the world's largest cannabis growing podcasts, where you can hear host Jordan River sit down with some of the most educated and talented people in the cannabis cultivation industry.
Organize My Thoughts
Description:
The Organize My Thoughts Podcast teaches you how to get out of your head so you can execute the multiple businesses, ideas, and projects on the inside of you.