The Top 5 New Fiction Podcasts Presented By The CrowdUltra Awards
---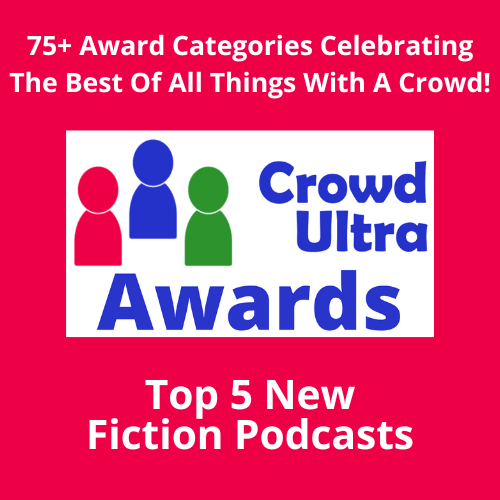 Since CrowdUltra is focused on connecting crowds to bring everyone closer together, they've formed the CrowdUltra Awards to celebrate the best of all things with a crowd. For those who don't know, CrowdUltra is part free all-in-one event and audience interaction app, part ticketing platform, and part social network. The CrowdUltra Awards features over 100 categories among segments they provide value to including events, podcasting, event talent, and event planning.

After receiving over a thousand nominations, they narrowed down the top five new fiction podcast nominees. These podcasts stood out among the rest and should be celebrated for the quality of their work. Those selected were determined by a mix of submitted nominations along with our expert panel's assessment on a multitude of considerations including quality, community, and uniqueness. See who was selected and learn about them below.

The Top 5 New Fiction Podcasts Feature:
Hell Gate City
Description:
In this podcast, a news radio host stuck in a dystopian cyberpunk hellhole NYC decides to live-stream his nightmares for ratings. All hell breaks loose.
Impact Winter
Description:
From executive producers of The Walking Dead and Travis Beacham, the writer of Pacific Rim, comes a heart-stopping Audible Original featuring a brilliant British cast. It's the near future and seven years since a comet hit the earth and blotted out the sun. The world is a dark, frozen landscape. And then, beastly creatures emerge and take over. Can they really be vampires?
Marvel's Wastelanders
Description:
Marvel's Wastelanders is an interconnected series of six radio drama podcasts produced by Marvel New Media and SiriusXM in association with Wave Runner Studios and launched in June 2021. The series' podcasts are set in a version of the Old Man Logan universe, a future timeline where supervillains have killed most superheroes and divided the world into personal realms.
Rainbow Girl
Description:
An intimate look into the hedonistic life of a seventies rock band and their groupies, Rainbow Girl is for everyone who has ever wondered what it was really like to be with the band.
Undertow: Blood Forest
Description:
UNDERTOW is an ongoing supernatural horror series that reveals the dark, monstrous side within us all. Every week, host and creator Fred Greenhalgh will take you deeper into this warped version of Maine where nothing is as it seems. Here, still waters hide eerie rip-currents and the secrets we keep from each other… and ourselves. No one can escape the Undertow.