The Top 5 New Football Podcasts Presented By The CrowdUltra Awards
---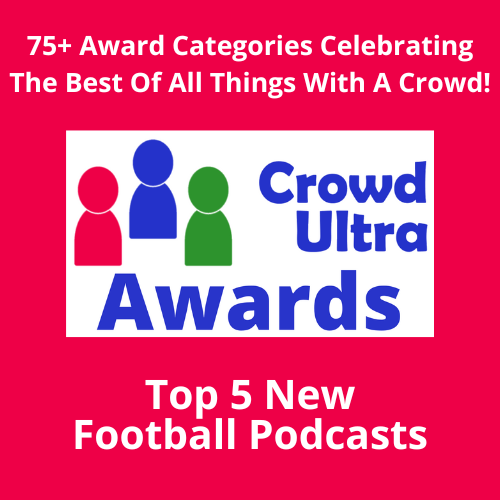 Since CrowdUltra is focused on connecting crowds to bring everyone closer together, they've formed the CrowdUltra Awards to celebrate the best of all things with a crowd. For those who don't know, CrowdUltra is part free all-in-one event and audience interaction app, part ticketing platform, and part social network. The CrowdUltra Awards features over 100 categories among segments they provide value to including events, podcasting, event talent, and event planning.

After receiving over a thousand nominations, they narrowed down the top five new football podcast nominees. These podcasts stood out among the rest and should be celebrated for the quality of their work. Those selected were determined by a mix of submitted nominations along with our expert panel's assessment on a multitude of considerations including quality, community, and uniqueness. See who was selected and learn about them below.

The Top 5 New Football Podcasts Feature:
Let's Go! with Tom Brady, Larry Fitzgerald and Jim Gray
Description:
Tom Brady, Larry Fitzgerald and Jim Gray discuss trending stories from on and off the football field and share stories from their personal life.
Smash & Dash
Description:
Join one of the most dynamic Running-Back duos in the history of the NFL, as Chris Johnson & LenDale White connect to talk all things life and football.
SNAPS With Aaron and T-Bob
Description:
Former Georgia QB Aaron Murray and LSU Center T-Bob Hebert team up for a raucous daily college football show. Takes, guests, and bets - every day of the week.
The Jordan Poyer Podcast
Description:
Right after every game, Buffalo Bills All-Pro defensive star Jordan Poyer delivers his instant reaction and takes you inside what went down on the field and the sidelines. He also sits down with his teammates and friends from around the NFL for real talk about the joys and challenges of life in professional football.
Truss Levelz w/ Cam Jordan & Mark Ingram
Description:
NFL superstars, Cam Jordan and Mark Ingram are Saints teammates and real-life friends whose personalities, minds, and hearts are as big as their talent on the field.