The Top 5 New Gaming Podcasts Presented By The CrowdUltra Awards
---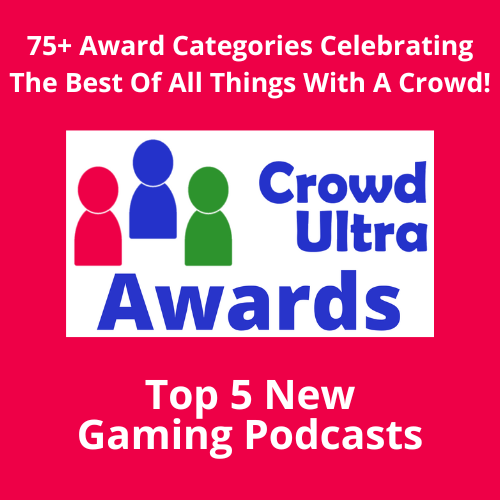 Since CrowdUltra is focused on connecting crowds to bring everyone closer together, they've formed the CrowdUltra Awards to celebrate the best of all things with a crowd. For those who don't know, CrowdUltra is part free all-in-one event and audience interaction app, part ticketing platform, and part social network. The CrowdUltra Awards features over 100 categories among segments they provide value to including events, podcasting, event talent, and event planning.

After receiving over a thousand nominations, they narrowed down the top five new gaming podcast nominees. These podcasts stood out among the rest and should be celebrated for the quality of their work. Those selected were determined by a mix of submitted nominations along with our expert panel's assessment on a multitude of considerations including quality, community, and uniqueness. See who was selected and learn about them below.

The Top 5 New Gaming Podcasts Feature:
Friends Per Second
Description:
Four nerds. Four microphones. Zero clue what we're talking about.
GameOnDaily GO LIVE Show
Description:
Every Saturday Gaz and Asa chat with games industry guests and content creators about games, other games, and more games.
Game Mess Mornings
Description:
News expert Jeff Grubb is here to dish out all of the hottest news!
Old Gamer's Almanac
Description:
Matt Martens and Hunter Donaldson are doing the impossible. Each week, we add one game to our growing definitive ranking of all video games ever made. If the video game industry could just stop for a little bit while we catch up, that would be super helpful.
The Game Informer Show
Description:
The Game Informer Show is a weekly gaming podcast covering the latest video game news, industry topics, exclusive reveals, and reviews. Join host Alex Van Aken every Thursday for a chat about your favorite games – past and present – with Game Informer staff, developers, and special guests from around the industry.