The Top 5 New Kids / Family Podcasts Presented By The CrowdUltra Awards
---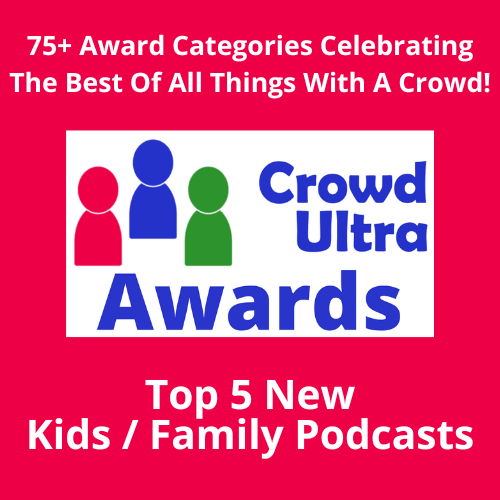 Since CrowdUltra is focused on connecting crowds to bring everyone closer together, they've formed the CrowdUltra Awards to celebrate the best of all things with a crowd. For those who don't know, CrowdUltra is part free all-in-one event and audience interaction app, part ticketing platform, and part social network. The CrowdUltra Awards features over 100 categories among segments they provide value to including events, podcasting, event talent, and event planning.

After receiving over a thousand nominations, they narrowed down the top five new kids / family podcast nominees. These podcasts stood out among the rest and should be celebrated for the quality of their work. Those selected were determined by a mix of submitted nominations along with our expert panel's assessment on a multitude of considerations including quality, community, and uniqueness. See who was selected and learn about them below.

The Top 5 New Kids / Family Podcasts Feature:
Co-dependent
Description:
Sisters, Kenzie and Jamee here to talk all things motherhood, family, business, marriage, life, ect. You can expect these best friends to share the real and honest side of life with kids unfiltered.
Kids Meditation
Description:
Guided Meditations for kids of all ages! Learn how to be present and mindful with your six year old host, Audrey. There is mention of some of her Christian beliefs every once in a while.
Our Gifted Kids Podcast
Description:
Share the journey of parenting gifted kids with Sophia as she interviews experts from the global gifted community. Parents, researchers, psychologists, educators, authors, and more all connect here with advice and support, so we have everything we need for every member of our family to thrive.
The Ten News
Description:
Bite-sized podcast for kids and their adults that explains what's going on in the world. Each episode explores topics kids care about most including events, sports, science, gaming, pop culture, entertainment, and more!
Unspookable
Description:
Unspookable is a family friendly look at the histories and mysteries behind your favorite scary stories, myths and urban legends. Each week host Elise Parisian digs into the history, brain science, and power dynamics behind such topics as Bloody Mary, Charlie Charlie, and Ouija Boards to find the stories behind the scares. (Recommended for ages 8+)