The Top 5 New Mystery Podcasts Presented By The CrowdUltra Awards
---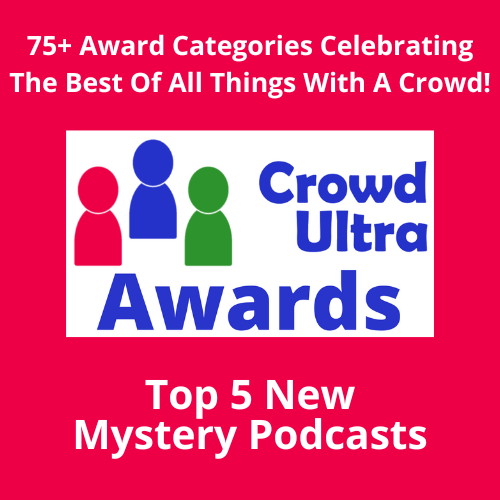 Since CrowdUltra is focused on connecting crowds to bring everyone closer together, they've formed the CrowdUltra Awards to celebrate the best of all things with a crowd. For those who don't know, CrowdUltra is part free all-in-one event and audience interaction app, part ticketing platform, and part social network. The CrowdUltra Awards features over 100 categories among segments they provide value to including events, podcasting, event talent, and event planning.

After receiving over a thousand nominations, they narrowed down the top five new mystery podcast nominees. These podcasts stood out among the rest and should be celebrated for the quality of their work. Those selected were determined by a mix of submitted nominations along with our expert panel's assessment on a multitude of considerations including quality, community, and uniqueness. See who was selected and learn about them below.

The Top 5 New Mystery Podcasts Feature:
Destination Terror
Description:
Join host, Carman Carrion, as she scours the globe for the world's most haunted places, and reveals the history, legends, and stories around them that make them so terrifying.
Drinking the Koolaid
Description:
Come Drink the Koolaid with hosts Cassidy and Amanda as they dig into topics like conspiracy theories, true crime, the paranormal, and all things mysterious.
Odd Trails
Description:
Odd Trails is an anthology of true paranormal stories, narrated by Andrew Tate and Brandon Lanier. Join us every week as we dive into all things weird and otherworldly.
Tales from the Break Room
Description:
In Tales from the Breakroom, folks from around the world send us their scariest workplace encounters and we narrate them to you.
Urban Legends with the Ghost Brothers
Description:
These urban legends have been around for decades, sometimes centuries, and still haunt us today. But are they real? The Ghost Brothers, Atlanta's premiere (and funniest) paranormal investigators, Dalen Spratt, Juwan Mass, and Marcus Harvey are investigating the craziest myths and legends with the help of comedians, witches, celebrities and friends.