The Top 5 Soccer Podcasts Presented By The CrowdUltra Awards
---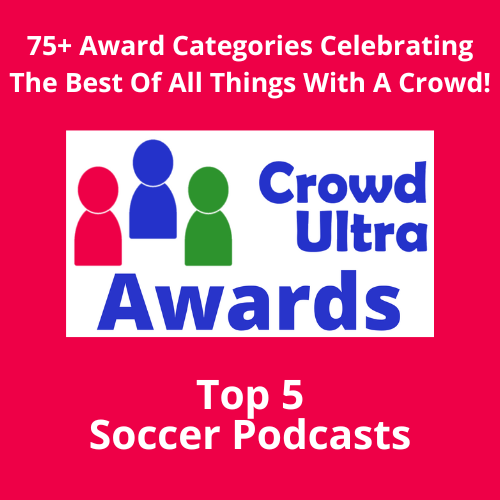 Since CrowdUltra is focused on connecting crowds to bring everyone closer together, they've formed the CrowdUltra Awards to celebrate the best of all things with a crowd. For those who don't know, CrowdUltra is part free all-in-one event and audience interaction app, part ticketing platform, and part social network. The CrowdUltra Awards features over 100 categories among segments they provide value to including events, podcasting, event talent, and event planning.

After receiving over a thousand nominations, they narrowed down the top five soccer podcast nominees. These podcasts stood out among the rest and should be celebrated for the quality of their work. Those selected were determined by a mix of submitted nominations along with our expert panel's assessment on a multitude of considerations including quality, community, and uniqueness. See who was selected and learn about them below.

The Top 5 Soccer Podcasts Feature:
Men In Blazers
Description:
Men in Blazers is driven by the belief that Soccer is America's Sport of the Future. As it has been since 1972.
Ranks FC
Description:
The show that takes football and puts it in the right order. Join Jack, Dean & Sam every Wednesday for rankings that discuss the best of football across Europe, from the Premier League to Serie A, La Liga to the Bundesliga, Ligue 1 to the Primeira Liga and beyond!
The Soccer Specialist
Description:
The Soccer Specialist Podcast is for players, parents, and even coaches that love soccer and want to discover ideas, tips and strategies focused on individual player development. We'll talk about how coaches and parents can better support players, and strategies, tips and training ideas players can use to reach their potential in the best game in the world.
The Totally Football Show with James Richardson
Description:
James Richardson and the Totally pod squad - featuring some of your favourite writers from The Athletic - are here three times a week with all the football news you need to know - and plenty that you don't
Total Soccer Show
Description:
Long-running American soccer show covering the USMNT, Premier League, Champions League, MLS, and more. If you enjoy analysis and silliness in equal measure, we're the podcast for you.