Wim Hof Named Best Health/Wellness Speaker Of 2022
---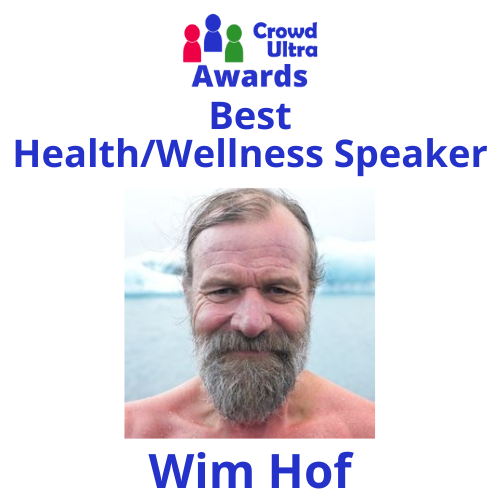 Wim Hof has been named the best health/wellness speaker of 2022 by the CrowdUltra Awards. Wim Hof "got his nickname 'The Iceman' by breaking a number of records related to cold exposure including: climbing Mount Kilimanjaro in shorts, running a half marathon above the Arctic Circle barefoot, and standing in a container while covered with ice cubes for more than 112 minutes. Using 'cold, hard nature' as his teacher, his extensive training has enabled him to learn to control his breathing, heartrate, and blood circulation and to withstand extreme temperatures. And so he developed the Wim Hof Method: a combination of breathing, cold therapy and commitment that offers a range of benefits. Armed with his motto 'what I am capable of, everybody can learn', Wim Hof is convinced that everyone can tap into their inner potential without having to invest the same decades worth of study, travel and daring."

Since CrowdUltra is focused on connecting crowds to bring everyone closer together, they've formed the CrowdUltra Awards to celebrate the best of all things with a crowd. After receiving over a thousand nominations, they narrowed down the top five health/wellness speaker nominees and Wim Hof stood out for the quality of his work in a way that should be celebrated. The award was determined by a mix of submitted nominations along with our expert panel's assessment on a multitude of considerations including quality, community, and uniqueness.

For those who don't know, CrowdUltra is part free all-in-one event and audience interaction app, part ticketing platform, and part social network. They have been named Eventplanner.net's Best Event App the last two years as well as one of the Top 5 Podcast Companies and Top 5 Podcast Marketing Apps by the global podcasting agency Quill.

Learn more about how CrowdUltra can enhance any speaking occasion and increase connection among the community here.