Eugene Fama Named CrowdUltra Awards Top 5 Finance Speaker
---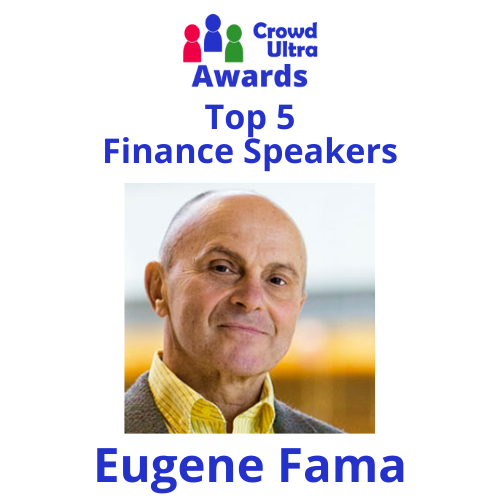 Eugene Fama has been named one of the top five finance speakers of 2022 by the CrowdUltra Awards. Eugene Fama is "widely recognized as the "father of modern finance." He is the joint recipient of the 2013 Nobel Prize in Economic Science. He is a prolific author and researcher, having written two books and published more than 100 articles in academic journals. Fama was the first recipient of three major prizes for research in Finance; the Deutsche Bank Prize in Financial Economics, 2005, the Morgan Stanley American Finance Association Award for Excellence in Finance, 2007, and the Onassis Prize in Finance, 2009. Fama is also chairman of the Center for Research in Security Prices at Chicago Booth, which was founded 40 years ago to create the finest tools for tracking, measuring, and analyzing securities data. He is Director and Consultant to Dimensional Fund Advisors, Inc. an investment advising firm with more than $251 billion under management."

Since CrowdUltra is focused on connecting crowds to bring everyone closer together, they've formed the CrowdUltra Awards to celebrate the best of all things with a crowd. For those who don't know, CrowdUltra is part free all-in-one event and audience interaction app, part ticketing platform, and part social network. The CrowdUltra Awards features over 100 categories among segments they provide value to including events, podcasting, event talent, and event planning.

After receiving over a thousand nominations, they narrowed down the top five finance speaker nominees and Eugene Fama stood out for the quality of their work in a way that should be celebrated. Those selected were determined by a mix of submitted nominations along with our expert panel's assessment on a multitude of considerations including quality, community, and uniqueness. The winner of the CrowdUltra Award for the best finance speaker of 2022 will be announced January 2nd. Those interested can stay tuned by visiting https://www.CrowdUltra.com/news and following CrowdUltra News on Twitter. Learn more about how CrowdUltra can enhance any speaking occasion and increase connection among the community here.