Jim Craig Named CrowdUltra Awards Top 5 Leadership Speaker
---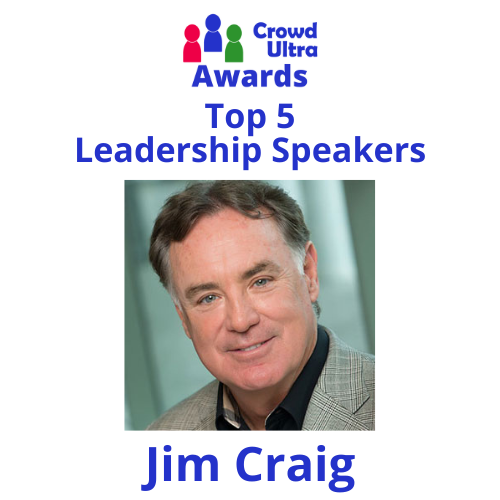 Jim Craig has been named one of the top five leadership speakers of 2022 by the CrowdUltra Awards. Jim Craig is "best known as the backbone of the 1980 Olympic Gold Medal Hockey Team, whose 'Miracle' win was voted by Sports Illustrated as the greatest moment in sports history of the 21st century. Craig, who started every game in goal, was a leading figure in the team's success. Following Craig's professional hockey career, he transitioned his success into the corporate world as a motivational speaker, powerful salesman and corporate consultant. He has been inducted into the Sales Halls of Fame for two different companies, having increased a sales territory from $300,000 to $50 million in annual sales. For more than 30 years, Craig has inspired, instructed and provided strategic and winning direction to some of the most prestigious companies across the world, including Kellogg's, Bayer, Deloitte, Bank of America, Coca-Cola, Procter & Gamble, and Disney, as the successful owner and president of his company, Gold Medal Strategies."

Since CrowdUltra is focused on connecting crowds to bring everyone closer together, they've formed the CrowdUltra Awards to celebrate the best of all things with a crowd. For those who don't know, CrowdUltra is part free all-in-one event and audience interaction app, part ticketing platform, and part social network. The CrowdUltra Awards features over 100 categories among segments they provide value to including events, podcasting, event talent, and event planning.

After receiving over a thousand nominations, they narrowed down the top five leadership speaker nominees and Jim Craig stood out for the quality of their work in a way that should be celebrated. Those selected were determined by a mix of submitted nominations along with our expert panel's assessment on a multitude of considerations including quality, community, and uniqueness. The winner of the CrowdUltra Award for the best leadership speaker of 2022 will be announced January 2nd. Those interested can stay tuned by visiting https://www.CrowdUltra.com/news and following CrowdUltra News on Twitter. Learn more about how CrowdUltra can enhance any speaking occasion and increase connection among the community here.